I'm fuming. My boyfriend drives for Uber, his birthday is on the 9th of December and I want to get him a tip jar/USB charging station all-in-one. Three days ago I was searching online and etsy had some available like this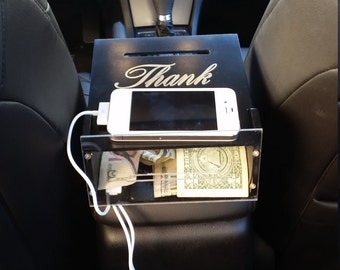 I almost bought it but couldn't quite afford it yet, and now there are NONE to be found ANYWHERE on the internet. Accept for this less-appealing, more expensive LED see-thru monstrosity:

which somebody is selling for almost twice the price as the one I had originally wanted to get him.
And the latest review states that the seller never sent it out nor responded and the buyer had to retract payment on paypal! Giving him a total of 2 stars out of 5 as a seller on Etsy - I'll pass
I would never get it in time for his bday anyway.
So wtf. I'd even settle for a charging station that fits in the car's middle console that supports the most common devices (android, iphone, and whatever) - but I wanted to incorporate the tip thing - CAN ANYONE SELL ME THEIR'S? Or suggest an alternative I can buy online? Please respond his bday is in 1 week >.<!! Thank you!!