Otto has developed a kit that allows big-rig trucks to steer themselves on highways, in theory freeing up the driver to nap in the back of the cabin. The system is being tested on highways around San Francisco. Aspects of the technology will be incorporated into Uber's robot livery cabs and will be used to start an Uber-like service for long-haul trucking in the U.S., building on the intracity delivery services, like Uber Eats, that the company already offers.
The Otto deal is a coup for Uber in its simmering battle with Google, which has been plotting its own ride-sharing service using self-driving cars. Otto's founders were key members of Google's operation who decamped in January, because, according to Otto co-founder Anthony Levandowski, "We were really excited about building something that could be launched early."
Levandowski, one of the original engineers on the self-driving team at Google, started Otto with Lior Ron, who served as the head of product for Google Maps for five years; Claire Delaunay, a Google robotics lead; and Don Burnette, another veteran Google engineer. Google suffered another departure earlier this month when Urmson announced that he, too, was leaving.
"The minute it was clear to us that our friends in Mountain View were going to be getting in the ride-sharing space, we needed to make sure there is an alternative [self-driving car]," says Kalanick. "Because if there is not, we're not going to have any business." Developing an autonomous vehicle, he adds, "is basically existential for us." (Google also invests in Uber through Alphabet's venture capital division, GV.)
Unlike Google and Tesla, Uber has no intention of mass-producing its own cars, Kalanick says. Instead, the company will strike deals with auto manufacturers, starting with Volvo Cars, and will develop kits for other models. The Otto deal will help; the company makes its own laser detection, or lidar, system, used in many self-driving cars. Kalanick believes that Uber can use the data collected from its app, where human drivers and riders are logging roughly 100 million miles per day, to quickly improve its self-driving mapping and navigation systems. "Nobody has set up software that can reliably drive a car safely without a human," Kalanick says. "We are focusing on that."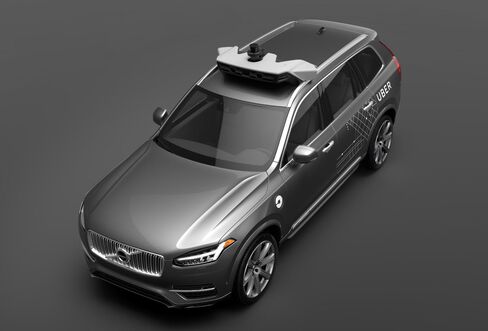 Volvo is expected to deliver a total of 100 specially modified SUVs to Uber by the end of the year.
Source: Courtesy Uber
In Pittsburgh, customers will request cars the normal way, via Uber's app, and will be paired with a driverless car at random. Trips will be free for the time being, rather than the standard local rate of $1.30 per mile. In the long run, Kalanick says, prices will fall so low that the per-mile cost of travel, even for long trips in rural areas, will be cheaper in a driverless Uber than in a private car. "That could be seen as a threat," says Volvo Cars CEO Hakan Samuelsson. "We see it as an opportunity."
Although Kalanick and other self-driving car advocates say the vehicles will ultimately save lives, they face harsh scrutiny for now. In July a driver using Tesla's Autopilot service died after colliding with a tractor-trailer, apparently because both the driver and the car's computers didn't see it. (The crash is currently being
investigated
by the National Highway Traffic Safety Administration.) Google has seen a handful of accidents, but they've been less severe, in part because it limits its cars to 25 miles per hour. Uber's cars haven't had any fender benders since they began road-testing in Pittsburgh in May, but at some point something will go wrong, according to Raffi Krikorian, the company's engineering director. "We're interacting with reality every day," he says. "It's coming."
For now, Uber's test cars travel with safety drivers, as common sense and the law dictate. These professionally trained engineers sit with their fingertips on the wheel, ready to take control if the car encounters an unexpected obstacle. A co-pilot, in the front passenger seat, takes notes on a laptop, and everything that happens is recorded by cameras inside and outside the car so that any glitches can be ironed out. Each car is also equipped with a tablet computer in the back seat, designed to tell riders that they're in an autonomous car and to explain what's happening. "The goal is to wean us off of having drivers in the car, so we don't want the public talking to our safety drivers," Krikorian says.
On a recent weekday test drive, the safety drivers were still an essential part of the experience, as Uber's autonomous car briefly turned un-autonomous, while crossing the Allegheny River. A chime sounded, a signal to the driver to take the wheel. A second ding a few seconds later indicated that the car was back under computer control. "Bridges are really hard," Krikorian says. "And there are like 500 bridges in Pittsburgh."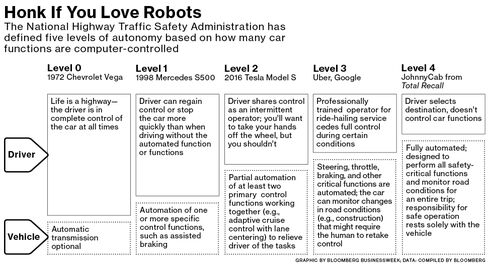 Bridges are hard in part because of the way that Uber's system works. Over the past year and a half, the company has been creating extremely detailed maps that include not just roads and lane markings, but also buildings, potholes, parked cars, fire hydrants, traffic lights, trees, and anything else on Pittsburgh's streets. As the car moves, it collects data, and then using a large, liquid-cooled computer in the trunk, it compares what it sees with the preexisting maps to identify (and avoid) pedestrians, cyclists, stray dogs, and anything else. Bridges, unlike normal streets, offer few environmental cues-there are no buildings, for instance-making it hard for the car to figure out exactly where it is. Uber cars have Global Positioning System sensors, but those are only accurate within about 10 feet; Uber's systems strive for accuracy down to the inch.
When the Otto acquisition closes, likely this month, Otto co-founder Levandowski will assume leadership of Uber's driverless car operation, while continuing to oversee his company's robotic trucking business. The plan is to open two additional Uber R&D centers, one in the Otto office, a cavernous garage in San Francisco's Soma neighborhood, a second in Palo Alto. "I feel like we're brothers from another mother," Kalanick says of Levandowski.
The two men first met at the TED conference in 2012, when Levandowski was showing off an early version of Google's self-driving car. Kalanick offered to buy 20 of the prototypes on the spot-"It seemed like the obvious next step," he says with a laugh-before Levandowski broke the bad news to him. The cars were running on a loop in a closed course with no pedestrians; they wouldn't be safe outside the TED parking lot. "It was like a roller coaster with no track," Levandowski explains. "If you were to step in front of the vehicle, it would have just run you over."
Kalanick began courting Levandowski this spring, broaching the possibility of an acquisition during a series of 10-mile night walks from the Soma neighborhood where Uber is also headquartered to the Golden Gate Bridge. The two men would leave their offices separately-to avoid being seen by employees, the press, or competitors. They'd grab takeout food, then rendezvous near the city's Ferry Building. Levandowski says he saw a union as a way to bring the company's trucks to market faster.
For his part, Kalanick sees it as a way to further corner the market for autonomous driving engineers. "If Uber wants to catch up to Google and be the leader in autonomy, we have to have the best minds," he says, and then clarifies: "We have to have all the great minds."
-With Eric Newcomer