All PortfoliosPortfolio 1+ Create New Portfolio
Edit
USH
1
Expand Portfolio
Healthcare
Generic anti-malarial may treat COVID-19 - Raymond James
Mar. 10, 2020 6:23 PM ET|About:
AbbVie Inc. (ABBV)
|By:
Jason Aycock
, SA News Editor
A generic drug used to treat malaria may be as promising as any that companies are currently scrambling for to treat COVID-19, the coronavirus-related disease spreading rapidly, Raymond James says.
Analyst Steven Seedhouse says chloroquine - a longtime oral anti-malarial that costs pennies per dose - could turn out "more effective, scalable, and affordable" than the candidates being studied by companies including AbbVie (NYSE:
ABBV
), Gilled (NASDAQ:
GILD
), and Regeneron (NASDAQ:
REGN
), not to mention Moderna (NASDAQ:
MRNA
), GlaxoSmithKline (NYSE:
GSK
), Pfizer (NYSE:
PFE
) and others.
After very early indications of efficacy in China, chloroquine is seeing increased demand suggesting it may be seeing real-world use already, though ultimate efficacy depends on data that still need to be gathered
Non disclosure I have no medical qualifications other than 15000 hours of surgeries and hospitalization and illness laid bedtime..
..My Mother cured my hep B by drinking dandelion root tea when dad got it at a country golf club back in the 70s.
And the antibiotics weren't doing spit,
It is a blood purefier
Base on the above, until it is disproven I am taking quinine supplements simply based on this. Its cheep enough.
Luck and health to all.
WARNING THE FDA HAS PREVIOUSLY PULLED SOME QUINENE DRUGS PRESCRIBED FOR LEG CRAMPS ..DYOD...
Potentially serious interactions with other drugs
Abnormal heart rhythms
Thrombocytopenia, a blood platelet disorder that can cause hemorrhage or clotting problems
Severe hypersensitivity reactions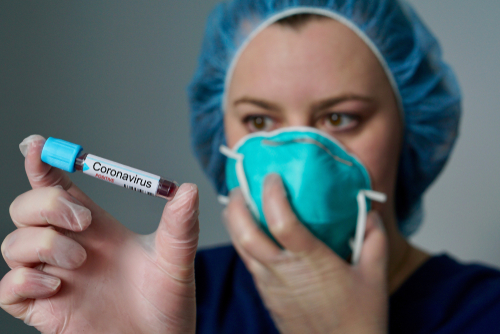 Coronaviruses are named because they appear different under the microscope. Coronaviruses look like they are covered with pointed structures that surround them like a corona or crown. Therefore, it appears differently which is why it is called a coronavirus.
If we look at the Severe Acute Respiratory Syndrome (SARS) outbreak, it was first discovered in Asia in February 2003. The outbreak lasted approximately six months as the disease spread to more than two dozen countries in North America, South America, Europe, and Asia before it was stopped in July 2003. Therefore, if the timeline holds for most viruses, it should peak out in April/May. Perhaps the last case may be June/July.
There is NO INDICATION that this will last longer than any other virus issue. For now, it will probably continue to expand into April/May before we see any top in the number of cases.
When we look at MERS-CoV, it was during September 2012, when WHO has been notified of 2494 laboratory-confirmed cases of infection with MERS-CoV in the Middle East. The fatality rate was 34.4%. MERS-CoV appears to have come from an animal source in the Arabian Peninsula. Researchers have found MERS-CoV in camels from several countries. Studies have shown that direct contact with camels is a risk factor for human infection with MERS-CoV. In this incident, MERS was first identified in September 2012 and had subsided by June 2013. There was a second outbreak in 2015 in South Korea. The first patient of the outbreak developed symptoms on May 11, 2015. WHO and the South Korean government estimated that the outbreak ended in July 2015, after about two months. By the end, there were 186 confirmed cases and 38 deaths.
Therefore, despite all the doom and gloom and the level of outright panic, we should see this subside probably no later than July 2020. It clearly spreads easier than SARS or MERS, but it is about on par with the version of influenza that mutates each year.
We may see this reappear again in the next flu season of 2021/2022. If it mutates like influenza for each season, then it can perhaps become more deadly at that period in time. Therefore, SARS came 17.2 years ago and MERS 8.6 years ago. Cyclically, there may be a resurgence in two years which would be in 2022.
As far as governments are concerned, the press seems to have turned this into a real panic.