British (UK) Uber drivers seem to have had a lot more success than USA drivers with Uber in
Organizing and Unionizing (GMB)

Court cases
Health & other Benefits

Getting concessions from Uber
What are Brits doing right that Yanks should copy?
___
Jul 28, 2017 by Joy McGregor
https://www.forbes.com/sites/jaymcg...mminent-problem-theyre-ignoring/#44a5c9e47952
Uber And Deliveroo Have A Huge, Imminent Problem They're Ignoring
(Credit: Simon Dawson/Bloomberg)
Uber drivers hold up signs during a protest against a rise in the commission taken by Uber Technologies Inc. outside their offices in London, U.K., on Thursday, Nov. 12, 2015.
A combination of rate changes, increased internal competition and escalating workplace danger has landed Uber and Deliveroo in the position they're in today: on the precipice of a full-scale driver revolt.
Shrinking wage packets are - and have been - the central complaint from drivers in recent years. Dropping minimum fares, or disputes over hourly pay, combined with a rapidly increasing number of drivers (around 25,000 in London) have left both companies with a disgruntled workforce.
This sharp decline in wages
isn't
balanced by great working conditions as there's been a spike in violent crimes against Deliveroo drivers in London in recent months. Sick pay for getting stabbed is nonexistent, too.
There are a few factors at play here - some of which are unique to London, some are relevant across the globe - that, at best, make the job not worthwhile, and at worst, are creating conditions for a full-scale downing of tools.
Factors like the exponentially growing cost of living in the capital, for example, or the rise in moped crime that's forcing Deliveroo drivers to arm themselves and 'get revenge' on thieves, are the seeds that will sow the eventual downfall of these gig-economy puppeteers.
On top of all of that, Deliveroo and Uber are pumping more workers into the system - further driving down available work. It makes sense from their point of view: the more workers the faster the service for the customer. For the worker, it just means scraping around for jobs that already pay far less than they should do.
This, from a Deliveroo driver named Tom speaking to the Guardian last year, is the problem in a nutshell:
"The most money I have ever made in one go is when I did 11 deliveries in a three-hour shift. Deliveroo pay £7 an hour and then £1 per delivery - so that was £32. But that's rare - more often I do three drops in three hours."
An Uber Eats courier I spoke with, who didn't want to be named, echoed Tom's comments.
"The pay has definitely gone down since I started which is why I haven't really been bothered to do it again."
He continued, "I think it's a great job for a student as the hours are incredibly flexible. Also for anyone doing it because they enjoy cycling and wouldn't mind the extra cash. Just a great source of extra cash if you have a day to spare here and there. However, I think it's definitely unwise for anyone to be doing solely Uber as their main job as it just doesn't pay well enough for the amount of work you're doing. Too much waiting around between busy hours - not so convenient if you don't live in zone 1 or 2."
This is the issue. For those who have moved on to doing this full time like the aforementioned Tom or disgruntled Deliveroo courier Mohaan Biswas, simply walking away isn't much of an option. The early rates drew them in, from which they made life-altering decisions and locked them in once the rate of pay dropped.
The very fact that so many couriers and drivers are willing to speak out is a bad omen for Deliveroo and Uber. It's a sign of things to come - as are the protests and increasingly caustic rhetoric from politicians. It all adds to the sense that these companies are exploiting their workers, which is, on the face of it, hard to argue against.
Aside from the regulatory Sword of Damocles hovering over these companies - which is a separate issue that deserves its own column - the combination of reduced pay, reduced work, increased danger and increasingly greedy employers is a recipe for disaster.
I can't see how that perfect storm of calamities
doesn't
end with couriers and drivers walking away en masse - embittered and vengeful for dedicating their livelihoods to companies that pushed them too far in the search for a few extra pennies.
_____
https://www.theguardian.com/technology/2017/may/09/uber-licence-drivers-gmb-transport-for-london
Uber should lose its licence if it doesn't improve workers' rights, say drivers
Minicab and black-cab drivers join GMB union in urging Transport for London to take action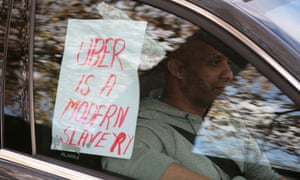 Uber drivers protest in London in November 2016. Photograph: Martin Godwin for the Guardian
Tuesday 9 May 2017 12.14 EDT Last modified on Thursday 15 June 2017 11.53 EDT
A group of minicab drivers, many employed by Uber, have joined black-cab drivers and unions in calling for improved workers' rights to be a condition of Uber being able to renew its London licence later this month.
United Private Hire Drivers, which says it has 1,200 members and organised a go-slow protest blocking roads in the capital in November last year, is calling on Transport for London to insist Uber and other minicab drivers are guaranteed basic employment rights, including the minimum wage and holiday pay, under the terms of its new five-year licence.
The Uber drivers are joining calls from the GMB union and the Licensed Taxi Drivers' Association, which speaks for London's black cabbies, in calling for minimum employment rights and better regulation of operators.